The real difference between a real mid-century modern furniture connoisseur and someone who has no idea what their furniture represents lies in knowing the history behind your furniture pieces. That is why true enjoyment of a Barcelona Day Bed comes from more than simply owning the beautiful furniture piece, but from really knowing and understanding the history behind it.
Of course, whether you're familiar with its story or not, you're still sure to receive plenty of compliments from those who visit your home, or office, and run into this Daybed. But if you impress your guests with your knowledge of one of the best-known daybeds from the 20th century, you are sure to make an excellent impression. That's how you can set yourself apart from the rest- or at least prove that you didn't buy it simply because "it was pretty", no judgment there though.
But as anyone who's ever tried to learn more about the history behind the furniture piece, no matter how iconic and representative of an era, I can tell you it isn't an easy task.
Sometimes you need some extra support to help you on your way. So today we wanted to present to you 3 fascinating truths about the Barcelona Day Bed that can make you sound like a true mid-century modern expert collector.
Designed by Mies van der Rohe
It's almost impossible to sound like an expert if you haven't got a clue about who designed the Barcelona Daybed, am I right?
German-born architect Ludwig Mies van der Rohe was one of the directors of the influential Bauhaus School in the years before World War II. He was born Maria Ludwig Michael Mies and later renamed himself "van der Rohe" as an effort to distance himself from his family heritage and grow his personal design brand.
Mies van der Rohe opened new paths with his architectural designs. He began his career as a draftsman before he began to search for opportunities on his own. During World War I, van der Rohe served in the German military. Later on, he went to become a well-known architect in his home country, creating such structures as the German Pavilion for the 1929 Barcelona Exposition. In the late 1930s, Mies emigrated to the United States. There he created such well-known Modernist works as the Lake Shore Drive Apartments and the Seagram Building. He died in 1969.
Not just the Daybed, but the entire Barcelona Collection!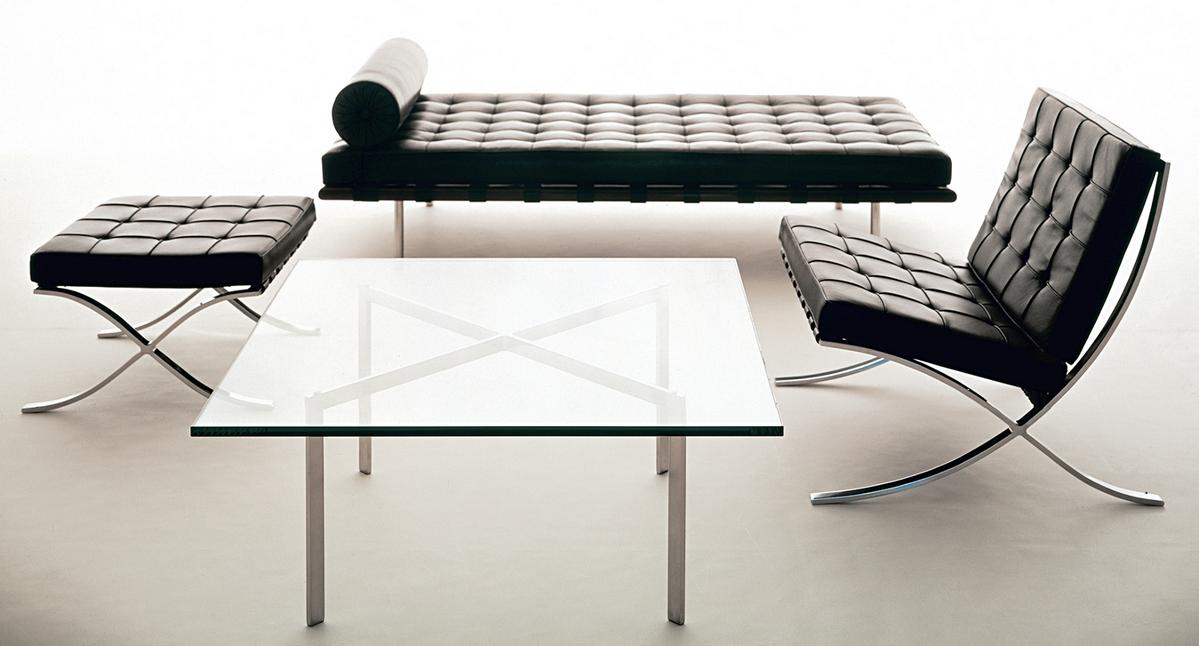 Despite being designed by Mies van der Rohe after the German Pavilion was inaugurated, the daybed is also considered a part of the Barcelona Collection.
This collection is composed of none other than the Barcelona Chair and Ottoman, and the Barcelona Table. Truly a triad meant to go down in history! The other two pieces from the collection were both designed alongside architect Lilly Reich for the German Pavilion for the International Exposition of 1929, hosted by Barcelona, Catalonia, Spain.
The Daybed was designed when American architect Philip Johnson asked Mies to design his New York City apartment. He took it as an opportunity to employ some of his newly created furniture designs Stateside.
A daybed worthy of kings and queens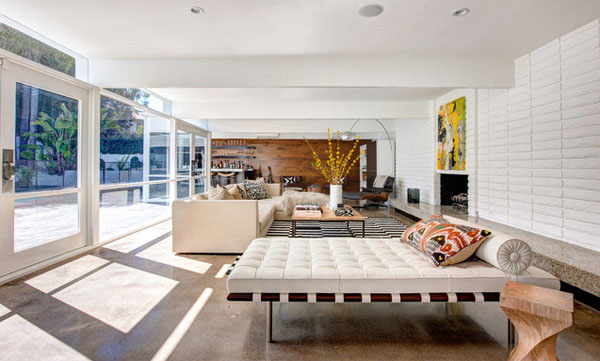 It's evident that Mies obtained his inspirational spark for the Barcelona Daybed from the rest of the pieces of the collection, is it not?
The original Barcelona collection pieces were designed for use from the royal family in Spain during their visit to the German Pavilion. So these furniture pieces were not only designed to be beautiful and eye-catching, but also very comfortable. It's important to note that during this era, comfort was not something greatly considered by many designers.
Mies van der Rohe based his Barcelona Daybed design on the hallmark criss-cross frame used in the Barcelona Chair. His original inspiration for this frame was based upon the furniture used during the Ancient Roman Empire by the wealthy.
This resulted in a Daybed worthy of royalty that is not only capable of accomplishing synchronicity between the ancient and the modern in human history but making it look amazing all while staying comfortable for its users.
We are certain that these three interesting facts are sure to get the conversation flowing once you have company over and they take a look at your beautiful Daybed! So now it's all about just figuring out what room or hallway in your home or office, will be honored with the presence of your Daybed.
However or wherever you choose to place it, you're sure to get showered in compliments for your good taste and your real knowledge behind it!
Now, if you're looking for other mid-century modern classics at an affordable price, you can look into other recognized sellers that also sell replicas of iconic furniture from this era, like Barcelona Designs!
Is there any other fact you're aware of that we forgot to mention? Let us know and we'll share that knowledge with the rest! Because there is hardly anything better than learning more about these iconic pieces that changed design history to what it is today!